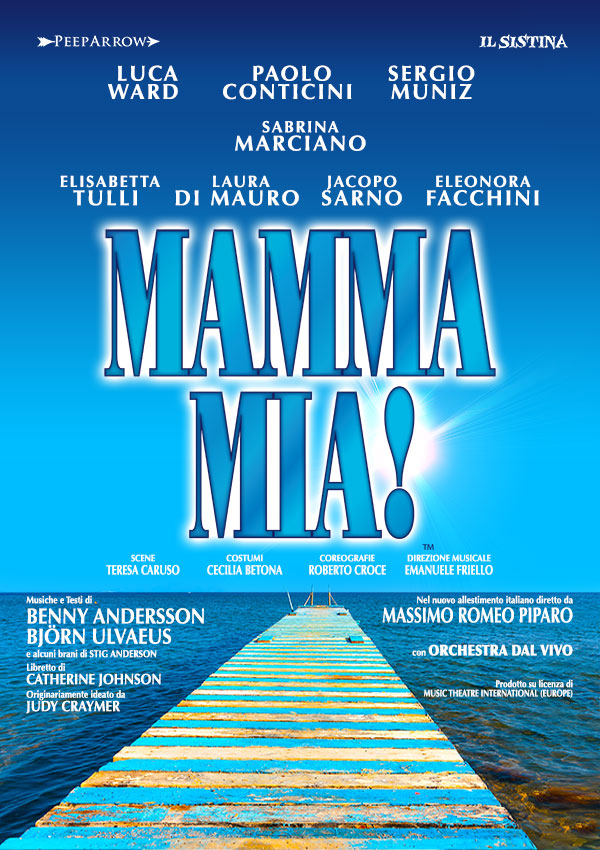 Not just Exhibitions at the Brixia Forum in Via Caprera 5 in Brescia.
November, in fact, will see protagonists the arts of the show business: from music to theatre passing through the musical.
It starts on Tuesday 7th and Wednesday 8th with a double appointment dedicated to "Mamma Mia!", perhaps the most famous comedy musical of the years 2000, that has been applauded all over the world and has involved the audience with the mythical ABBA songs. Almost 10 years from the movie with Meryl Streep, a new version is released in Italy, which will be produced for the first time by a great Italian production, featured by three popular actors such as Luca Ward, Paolo Conticini and Sergio Muniz. The female protagonist role, will be performed by the revelation of Italian music, Sabrina Marciano (just back from the loud affirmation in the role of dance teacher in the acclaimed Billy Elliot) surrounded by a cast of over 30 artists and a live orchestra placed within the scene.
Tickets available at Vivaticket.it.
The second event of the month brings to Brescia "I Legnanesi" with the show "I Colombo … si nasce!". Another funny adventure of the most irreverent and true family of the Italian theatre.
The appointment is on Sunday, November 19th at 16.00.
Tickets available at Vivaticket.it.
The last artistic event in November is another event dedicated to music: on November 25th, Brixia Forum hosts the concert of Cristiano De Andrè's dedicated to his father's greatest works. "De Andrè canta De André" is a lucky artistic project in its third chapter. "De André canta De André is a project that has allowed and still allow me to continue my father's artistic legacy – writes Cristiano De André in autobiography- but characterizing it with new arrangements that can express my musical personality and at the same time to give a new dress to the works, my footprint. I hope that by doing this performance, my father's poem will get to touch younger souls, involving even those who do not listen to the author song ".
Tickets available at Vivaticket.it.