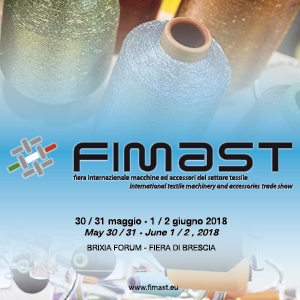 FIMAST 2018, is the exhibition that opens up scenarios on the largest yarn manufacturers, is unique in its sector, featuring the world's latest news in the textile machinery sector for socks. The fifth edition of FIMAST is renewed in content, expanded to the whole network, as well as a new "location", Brixia Forum – the Exhibition Center of Brescia-Italy.
Textile machinery is a sector that has a strong tradition in the Italian Production System. Our territory is a highly specialized district and boasts world-class excellence production. Even in a phase of economic crisis and radical transformation of the whole compartment, Italian production companies have been able to maintain their leadership position in international markets.
This Fair is an opportunity for "cohesion" between companies and above all an extraordinary opportunity of confrontation with the innovation, research, new opportunities on different markets and development finance. Four days to build together your future and do "business", that is, the real goal for the companies.
Fimast
The exhibition is dedicated to the compartment of textile machinery and for socks.
---

Date

30/31 May – 1/2 June 2018

Frequency

Triennial, next edition May 2021

Website

http://www.fimast.eu

E-mail
info@fimast.eu

---

Sector

Textile machinery and accessories international trade show
Organizational Secretary

Principemedia

Address
 via Volturno 31, Brescia
Telefono
 +39 030 3730487
Fax

 +39 030 3730368

Website

http://www.principemedia.it

E-mail
 info@principemedia.it